05 Jun

In Woodbridge, Beauty Is in the Details

Originally published with the Huffington Post on June 5, 2013

Details matter. Grand ideas and sweeping intentions are important. But if a person doesn't bother with the details, those grand ideas and sweeping intentions go nowhere. As an art viewer, highly detailed work often mesmerizes me. I see the artist's hand and his or her drive to create something special. In successful pieces, the artist's attention to detail allows me to appreciate that he or she created an object of love.

"Objects of love" is an accurate description of the works by Maria Soledad Jofre and the works by Kelly Darke that are currently on view for the grand opening exhibit at Live Coal Gallery in Detroit. The show titled, "Texture Intertwined," opened on April 26, and it runs through June 7, 2013. Live Coal is located in the Woodbridge area of Detroit (not far from Midtown) at 5029 Trumbull Street, Detroit, Michigan 48208. Its hours are 11 a.m. to 5 p.m. on Wednesday, Thursday, and Friday, and 11 a.m. to 3 p.m. on Saturday (and by appointment, (313) 402-5274). (Live Coal is a great addition to Detroit's art scene with plenty of space for shows, a permanent collection, a gift shop, a kids' activity area, and a dedicated director.)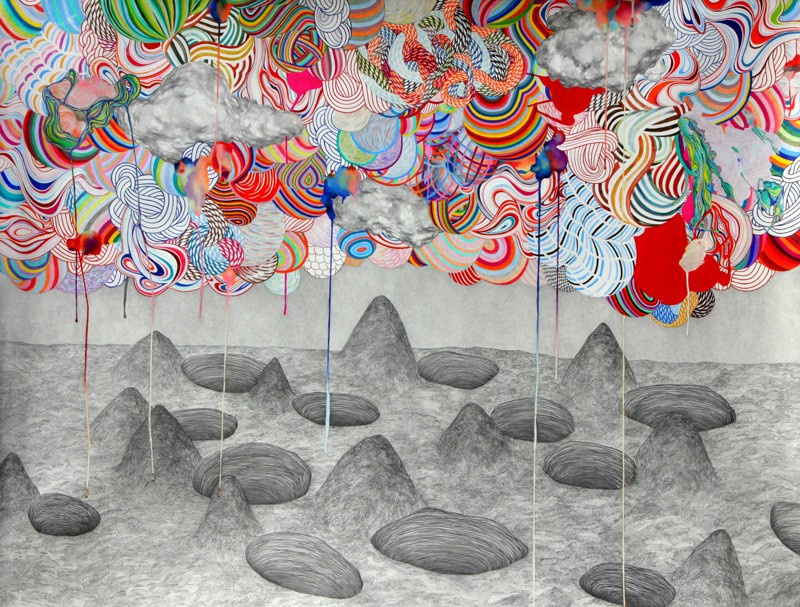 These artists are meticulous and you can get delightfully lost in each of their processes. This is Maria Soledad Jofre's first show. I cannot do justice to her pieces by showing you photographs. These are large drawings that appear to be on a textured or pre-printed paper. The textures draw you in, and then you realize that she creates her work through an exceptionally long and disciplined process. While such a process may cause the work of other artists to come across as heavy handed, Maria's work comes across as meditative. There is a particular joy in comparing her large works that are primarily black and white (with only hints of color) to her more recent work where the color flows onto the paper in jubilation. This being her first show, I am very excited to see what she does next.
Even though there is an obvious conflict in my writing this review — I am an artist with Live Coal and Kelly Darke is my sister — I could not pass up the opportunity to share my thoughts and encourage people to go to this show. I'll avoid a lengthy review of Kelly's work because of the conflict, but I will say that her latest series of work has some of her strongest pieces ever (she creates surprisingly beautiful fiber paintings through fabric, textiles, thread, acrylic, and other materials).
Go to Live Coal, get lost in the details.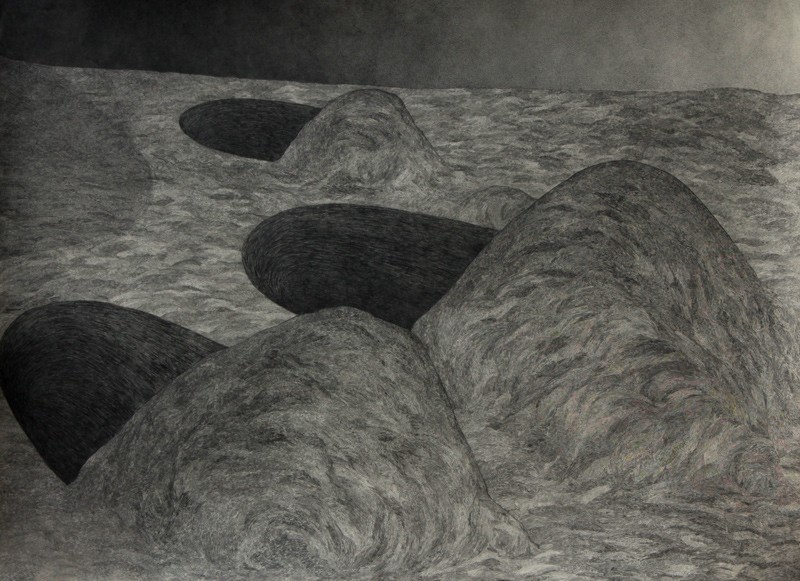 P.S. Live Coal's next show opens on June 14, is called "Modern Impressionists," and showcases Senghor Reid & Gilda Snowden (and introduces emerging artist Antoinette Conner).